Your Shabby Store Subscription Box has arrived!

Trend-leading, luxury home accessories welcoming you into each season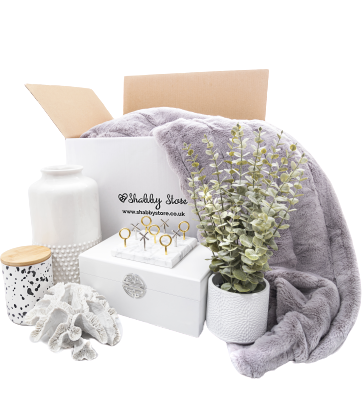 For just £85 including delivery, we guarantee the value of your items will always be at least 25% less than the standard retail price!

Our home interior experts are all over the new trends across the globe, and will be introducing the very best products for you to sample in each box.

You can join our amazing subscription box by clicking on "Get your box". Once you have joined, we will send you a new box every 3 months at the start of each new season and you can cancel at any time.
What our customers are saying...
"I have bought so many beautiful items from Shabby Store, their collections are so unique. When I heard they were bringing out a seasonal subscription box, I knew I had to join in order to see what the latest trends are!"
Sarah W, Leicester
"The best interiors store available. I have followed their amazing social media page for years and I'm always inspired by their features. I can't wait to get my next subscription box and see what amazing items they have for me!"
Angela P, Sevenoaks
"Shabby Store is literally my dream interiors store. I have bought so many accessories from our home and always get such amazing compliments."
Shazia L, Glasgow